Saturday, July 4, 2009
ok its time to blog something new....
I cant talk in detail about our Military life, or i am gonna get charged for it lol.....
what i can say about it is that... Its fun in a way, all these bunk buddy taking care of one another , with all the different kinds of joke generated.
Tekkong is pretty much "Clean" now in a way.. not much stories heard about it.. food is kinda bad .. starting to get sick of the food there already ... its just always that same few dishes, and never to fail us chicken meat all day long..
To be serious, the trainings is not as tough as what i thought it would be.. just because we are the mild obese batch... everything is going on pretty slow.. being sick in tekkong is also a pain in the ass.. lol we get like more than enuff rest .. they dont let us go for the activities even we feel like totally ok, its just for safety purposes... lol for that "WHAT IF, you faint and die".
Sigh so restricted on the content that i dont really feel like talking any further lol...
so far so good... been there for 1 month already.... another 2 months ++ to go.. seriously cant wait to get out of BMT .. we are really restricted to a large extend to do what ever things.. although i know the army we are going through now is like peanuts compared to people in the past... we have more RIGHTS now and much more Welfare... rarely have shit stuff happening to us .. unless we fucked up on something .
i am picking up all the vulgars in the army, i am starting to turn into these kind of guys with "Fuck, Cheebye" coming out in every sentence of mine.. i accidentally said fuck to my younger cousin that day, but i think he didnt hear what i said lol.
its 3.30 am now.. i am tired and sleepy .. but i dont wanna go sleep cause i am booking in tomoro.. booking out to sleep is a real bad idea.. rather spend more time on stuff that i cant do in the camp..
2 years of life in army... argh ,heart starting to hurt when i think of it.. SOOO RESTRICTED ~ and this is the so called discipline that all soldiers must have...
Time pass quicker please. i wanna try some unit life.. lol
12:07 PM
Wednesday, May 20, 2009
Almost half a years ago since i last blogged lol.... Times pass really fast...
In 2 weeks time i am heading into army, i dont know how it will turn out to be.. but i am certainly looking forward to it. Tekkong lol.. the "dirty" place everyone is talking about. Hope its gonna carve my last part and most fun of my teenage life before i step into the society and work..
The more i yearn for a happy family, the worst its gonna get. I really hate this ancient Asia culture that my parents enforced into the family... all i want is just a simple family and parents that i can confide in, asking them what i can do giving me advices when i needed them.
My dad throws wrappers of eaten biscuit on the chair, with all the bits and pieces all over the place , and he just walks off without cleaning them up to his room and sleep. I tried not to dislike my dad for stuffs like this, i know he loves and care for the family. i Recall how he used to buy toys and ice cream for me when ever i wanted, its always these memories keeping me from disliking him and all his other flaws.
My dad have hypertension B .. Diabetes... he is not suppose to drink beers, and eat sweet stuffs, BUT aparantly he is totally not giving a dam about these problem he have.
He drink beer everyday, Eat some sweet stuff everyday, at first i pretend to just close one eye, when i see him drinking beer.. or eating fruits like apple or oranges just to quench his crave for sweet stuff.
Then the first nightmare happened, 2nd relapse of his liver hardening, he appears to be afraid.. ok, after sometime hes cured of the liver hardening. The doctor said he was lucky... 2nd relapse is like 60% chance of recovery.. and if it happens the third time, its really difficult to say. Liver hardening leads to liver cancer.. and so long.. chain of problems that will happen and not to mention that he have diabetes.
Recently he is doing alot of leg therapy on his own, i know he is trying to hide the fact that he is starting to feel numb on his legs. Every night i see his applying these chinese medication oil .. and doing the electro therapy thing for his legs to stimulate blood flow.
But, he is still drinking and eating sweet stuffs when he is not supposed to. its not like i didn't tell him not to, i explained to him why he should not drink, but very often i just get a scolding from him saying that i am annoying and being noisy. its getting worst now , he buys 2 - 3 cans of beer in the fridge.. and drink 1 can everyday? i don't freaking like beers so i didn't drink it on behalf of him. And i don't want to turn myself into a acholic because of him.
It really makes me wonder if he still loves the family or not, wasting his life away like this. i know mum loves him alot, i cant imagine if the liver hardening happens for the 3rd time and he didn't make it through. do he even really have the thought of the family when he drink with his friends in the coffee shop... Sigh.. and i am going into the army soon... i can only pray that he will be fine and he knows when to stop ...
Dad, i know i love you but i really cant bring it to my mouth and say it. Our family is just brought up this way, i just hope you can be the kind of dad i wanted ... A role model, someone whom i can learn things from and i can put them into good use next time in my life up holding the thought that my dad thought me these... but you are not showing me any of these..
i am feeling so jealous.. lol.
8:36 AM
Tuesday, December 30, 2008
Ding ding ~ new year coming lol... again i am blogging 1 month later from the previous post. hahahaha i know my blog is quite isolate one no people really read, only some of my friends read.
I am very very lazy to upload photos.. lol ... and yea i am here to come and complain about projects again
got 7 project on hand now !
ICT
PHP
3d MAX modeling Flying dragon
Flash Game
Flash website
Director (Movie Sampler)
+
Adobe after effects project (coming soon)
Weee !!!! And right now my health is on alert mode, just when i need to sleep late and do my project =.=
Went for NS medical checkup first time, they told me my heartbeat too fast need to go retake in 2 weeks time. So after 2 weeks i went again, and the result was the same, heartbeat too fast. Then he told me i got a little high blood pressure, its the symtom of the start of high blood pressure already... then they ask me to go back in 1 months time again... then they will attatch a machine on my body, moniter my blood pressure for 24 hrs.. hiaz.. see i already got so much problem with my body already.. now its giving me high blood pressure...
Alamak i how old only... 19 years old and i got so many problem with my health .. not really Big problem, but all these problem Require me to watch what i eat... what i do.. sigh.. why my life so sarks man... i cant eat too much tibits... go movie kenot eat popcorn.. kenot really eat choc stuff as well... (although i got eat abit lol) now gonna get high blood pressure.. i cant eat too salty stuff... and the bad news is my dad and my uncle got diabetis (spell wrong but i am sure you all know what i mean)... so.. if i kena diabeties in the near future... i am reduced to eating food without any seasoning? . i am so gonna die man.. Argh... always me and me and me and me =.= as i grow older my life get worst.
i must have been a really really bad guy my previous life.. think i killed someone, then tear the body apart feed dog, take bone go boil bakut teh.. blood go do ruitual.. skin make snare drum.. hair make violin... what else? mmm maybe i didnt kill him.. considering my health problem is long term lifelong .... maybe i locked the person up and whip him or her like every day or something.
God loves to pick on me. i feel like a lab rat. i saw these baby hamster at AMk there.. new shop beside amk hub.. i feel so tempted to buy one home.. i never fail to smile when i look at them no matter how stressed up i am, lol.. looking at their innocent faces sleeping in all sorts of cute position makes my heart melt. i can literally hear echos of "AWWWWWWWWWWWWWWWWWWW, AWWWWWWWWWWWWWW ,AWWWWWWWWWW" ringing in my head from every direction... maybe i shld get one... maybe i got high blood pressure cause my hamster is gone .. nothing for me to smile at everynite before i sleep....
6:12 AM
Monday, November 24, 2008
Long time no blog already... heheh sorry.. wanted to update all the time but just dam lazy to do so...
So first of all .. Thank every one for the birthday wishes.. lol.... i know this is long overdue.. had alot of fun at chomp chomp, i was really suprised with the birthday card... haha..
Then.. Its the WOTLK launch ... in case people dunno what is that.. it is the game expansion that i am playing... hehe.. They blardy.. made us climb 6 storey to get the game... and then walk down 6 storey to exit the place.. pratically they are making us walking around and around in circles... And took TAXI back.. cause our dear hui yun wanted to... (oh ya ... you still owe me 6 dollors.. LOL).
Its Getting REAL REAL BUSY these 2 weeks... no time to play wow.. and just when the feel come back that i want to train.. i dont have time to play... Think at most these few days can log in do the daily quest.. and some simple quest..
Farking wow level 74 1/2 way to 75... ARGH.. i hate leveling druid ! WTB my mage... gotta relevel a ally mage from scratch... Not enuff time sia...
GOING to army in like another half a years time... just hope by then at least my druid and mage will be both 80 and PVP GEARED at least...
Now blogging in lab.. ICT project management ... rofl.. from week 1 till now i didnt listen at all.. actually whole class didnt listen .. not only me haha.
TODAY.. go home must do storyboard.... MY LEET 2D stick man drawing.. And i still remember last time i drew my harry potter pencil box... the teacher asked me..
"Is this a soap?"
*Class burst into laughter* Cause they know i am drawing pencil box....
SOOOO i gotta pick my self up... lol tonight.. i need to draw a king.. and farmer.. and noble mans.... Good game.. i have a feeling this time teacher will ask...
"Is this a colony of ants?"
Project on hand......
3D max need to model 7 Object....
3D max project need to model my flying dragon...
3D max need to animate the storyboard i drew...
Flash project need to make a handphone game.. gotta programe it ourself as well
Director project... Make a movie browser kind of thing...
Adobe After effects project.. To be confirmed..
This stupid ICT project management thingy...
Common test in 2 weeks time...
i know got more but right now i cant recall it lol....
9:10 PM
Tuesday, October 14, 2008
Woo i downloaded brave fencer musashi ~ and ... SO HAPPY at first and the whole game start of with ... a blue blue moon on the sky....
"Chapter 1 - The Journey Begins"
and after that the screen just go pitch black.... Journey begins in black hole? wtf? rofl....
yea i am feeling much better after trashing out in the blog... thanks to these who ask if i am fine... lol
gotta love the after band KFC chit chat session.... it alway brings us so much laughter. feels like all kind of unhappiness is gone ~
Ridwan.. i am so gonna learn all the bad stuff you teach me...
-----------------------------------------------
"HEY ROBIN!, see i think thats Lun Tat right?"
*my heads looked at the direction he point*
me : "Where ? Where i didnt See them...."
*ridwan steals my fries*
-------------------------------
*throws key on the floor*
"Hey can you help me pick it up?"
*another fries stolen*
----------------------------
"Hey can you grab the tissue of there for me?"
*Stands up slightly and reach for the tissue*
*Another fries stolen*
omg ~ Fries stealer~ wut the fug ?
oh and jhokie ! thanks for the musashi songs lol ! really brings back alot of memories.. love you tons !
Bleh...... feels like my body is not in good condition again... getting funny aches here and there ..
10:02 AM
Wednesday, October 8, 2008
Ok..i know i didnt blog for a long time... because i am leaving the space for my other hamster...
Alright.. the 2nd one died .... no photo taken.. cause its pretty much unsightly...
buried it next to my first hamster..
I cant belive what is happening to me these past 2 days..
First.... My 3rd sis treat the whole family to eat some nice seafood.. I cant go cause i got band practise.... yesterday..
Second... My band performance falls on my 3D Animation class... which is the class i always wanted to attend ever since i choose my freaking course... ok skiped it as well today... ( i didnt know my animation class was on wednesday.. stupid new timetable....)
Third.. Bird shit drop on my shoulder this morning when i am heading over to the band room...
Fourth .. My hamster died tonight..
Am i freakin down on luck or something, i am overwhelm with grieve right know i seriously dont know whats wrong or wtf is the god trying to do to me. I wont blame the band cause i agreed to perform, i need to be responsible for what i have promised. its just that all the thing pop out last min making me feel so screwed.
if gods want to kill me pls send a car to bang me right when i am crossing the road.
STOP playing these kind of farking small little tricks on me .....
Gods pretty much screwed up my whole life... i am not living in pain or what... but all these small little problems on me.. my head my ass my body .. EVERYWHERE got a farking problem.
I dont have a God dam room for me to trash things out. I SLEEP IN THE LIVING ROOM FOR FUCKING 19 YEARS.. I DONT HAVE A FARKING PLACE TO PUT MY BLOODY THINGS, EVERYWHERE I PUT I AM BOUND TO GET A SCOLDING.
when you say things nicely yes. i got the biggest room.. so? do you like it when everyone passes through your room every few mins? EAT and throw all the farking wrappings papers of sweets, biscuits, Tissues, Food crumps, Food stains on the floor and the table? and i am always the one who is clearing all the shits up. CAUSE I NEED TO SLEEP THERE.
When friends come to my house i dont have a proper room to entertain them. And when i need time alone i have to hide in the toilet TO CRY TO SMILE AT THE WALL OR TO ADMIRE THE SOILED UNDIES.
I AM SLEEPING BESIDE THE SHOE RACK. SHOES right behind the fan that is blowing towards me every night. Salted fish smell of any kind of flavour or duration 1 week 1 month 1 year you choose...
ITS NOT GONNA KILL ME I KNOW, BUT ITS DRIVING ME CRAZY.
WHY THE FUCK DO I HAVE TO GO THROUGH ALL OF THESE??
ITS NOT AS SERIOUS AS NOT HAVING LEGS OR HANDS, UNCURABLE DISEASE , BLIND , MUTE OR WATEVER SHIT I KNOW
BUT TRY TO FARKING LIVE IN A CONDITION LIKE THIS FOR 19 YEARS. AND I DONT KNOW HOW MUCH LONGER I HAVE TO LIVE LIKE THIS.
I AM JUST FEELING SO IRRITATED AND ANNOYED NOW. MY HAMSTER DIED AND MY FARKING 1ST SIS CAME OUT OF HER ROOM SPRAYING AIR REFRESHENER ALL AROUND THE LIVING ROOM SAYING
"THIS ONE WILL KILL GERMS!"
WTF? CANT SHE FARKING DO IT WHEN I AM NOT AROUND. SHES SPRAYIN RIGHT INFRONT OF ME. WHEN I AM CLEARING MY HAMSTER CAGE.
I Really Really had enuff...
Perhaps my mother shld have agreed with my father when he wanted to abort me long ago.
I shouldnt have existed in the first place....
Argh... feel so much better after letting all these out.. i gotta do this once in a blue moon... i will be smiling tomoro...
7:32 AM
Sunday, September 14, 2008
QQ my hamster died today... i discovered it like 2 - 3 hours after it died.. body not warm... but its still soft.. so it didnt die for very long..
he died beside his favourite cuttlefish that my mum gaved him...
Well... He lived with me for around almost 2 years... and he gave me all kind of problems. Right at the start.. he fought with his brother hamster.. until both of them bleed.. so i gotta take them into different cages...
not long after... he became kinda emoish.. always hiding in one corner.. and yea its the common problem for hamsters after changing their living ennvironment... luckily i cured him by putting him into the Plastic Transparent ball.. (for hamster to crawl around the house with it) everyday.. lol .. and he is smart to find his old house..
after that he became more active in his own cage and tada ~!
next... he contracted some kind of skin problem... and his leg became swollen... but i guess this is the start of the nightmare.. then his skin problem just come and go all the time.. until like 2 months ago .. his leg got some infection, and kinda like rot a little.. so .. again cured it with some medicine ... the leg healed...
but it look really haggard.. so i already knew this day would come... and there..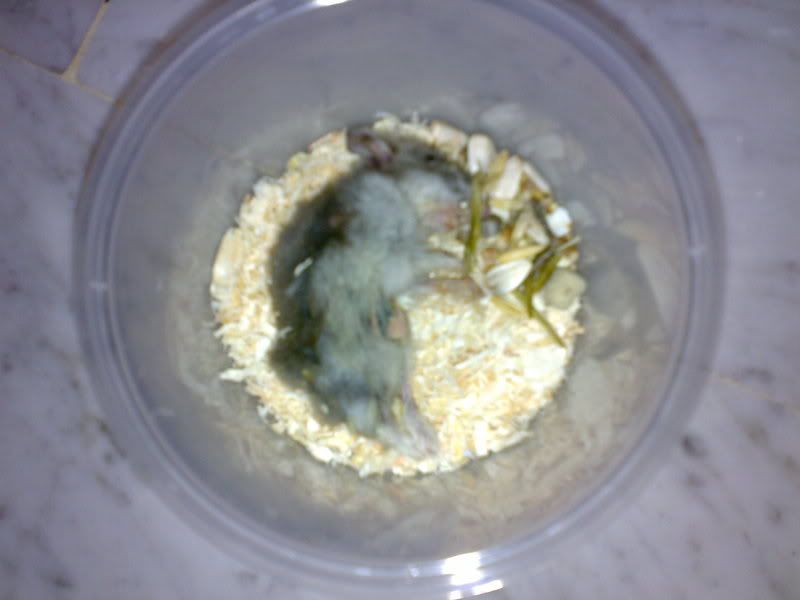 so i buried it.... with some new bedding and food.. (well its kinda like chinese tradition... dont wanna let him go hungry on his way to reincarnation)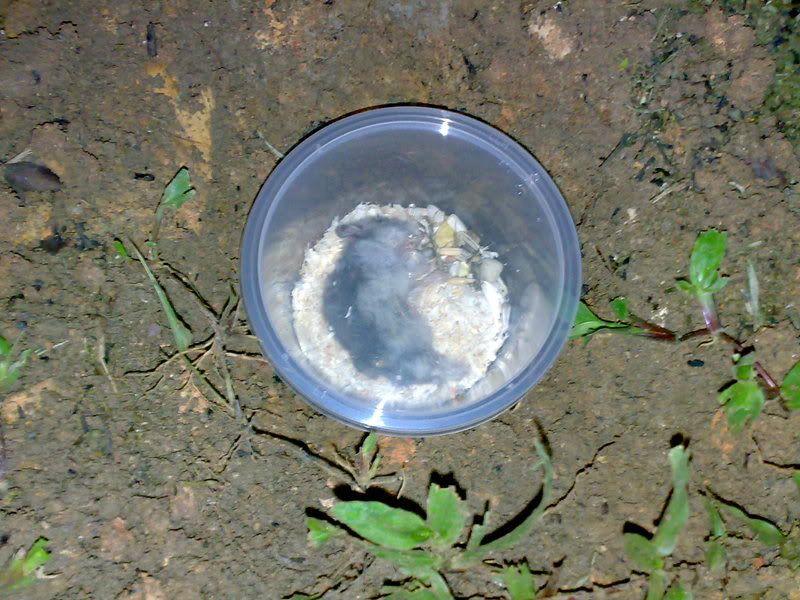 and .. not forgetting to give him my little token of appreciation these 2 years he accompanied me..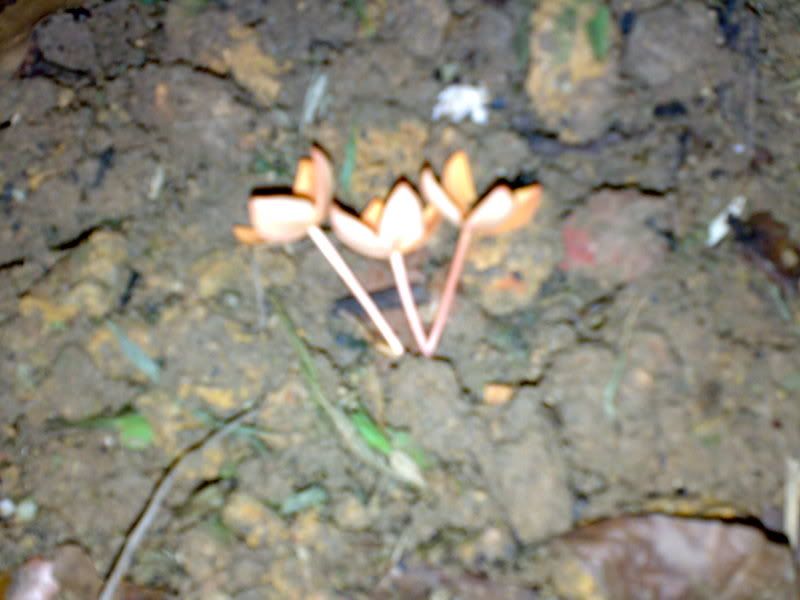 well if i said i am not sad i am faking it.. lol .. yea tears did fall from my eyes after placing these flowers on it..
and it became my signature wallfall eyes when i started to clear his house.... well even now i can feel my eyes are teary again ... lol may he bless his brother to live longer.. and yea.. i will never forget you.. hes my 4th hamster that i buried ...
sigh.. if he lived for another 1 month plus ... he would be celebrating my birthday with me... i got them on my birthday 2 years ago... and i remember how tiny they were.. the went missing on the second day i bought them, aparrantly there were so small that they squeezed throught the grills of the cage .. lol found them hiding in my shoe box..
not sure if i will buy another one if this current hamster dies... but i really love hamsters..
Well .. i am sure i will be drooling with my eyes on the pillow tonight...
Take care and go to the painless world little one ! meet your seniors ! (my other hamster that died)
Remembering you always.....
11:01 AM